The World Is Burning
Bill McKibben says very well what a great number of climate observers are saying: the world is burning.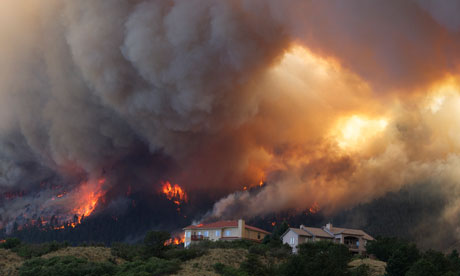 While Colorado burns, Washington fiddles - Bill McKibben via the Guardian

You ever wonder what global warming is going to look like? In its early stages, exactly like this.

Global warming is underway. Are we waiting for someone to hold up a sign that says "Here's climate change"? Because, this week, we got everything but that:

• In the Gulf, tropical storm Debby dropped what one meteorologist described as "unthinkable amounts" of rain on Florida. Debby marked the first time in history that we'd reached the fourth-named storm of the year in June; normally it takes till August to reach that mark.

• In the west, of course, firestorms raged: the biggest fire in New Mexico history, and the most destructive in Colorado's annals. (That would be the Colorado Springs blaze: the old record had been set the week before, in Fort Collins.) One resident described escaping across suburban soccer fields in his car, with "hell in the rearview mirror".

• The record-setting temperatures (it had never been warmer in Colorado) that fueled those blazes drifted east across the continent as the week wore on: across the Plains, there were places where the mercury reached levels it hadn't touched even in the Dust Bowl years, America's previous all-time highs.

• That heatwave was coming at just the wrong time, as farmers were watching their corn crops get ready to pollinate, a task that gets much harder at temperatures outside the norms with which those crops evolved. "You only get one chance to pollinate over 1 quadrillion kernels," said Bill Lapp, president of Advanced Economic Solutions, a Omaha-based commodity consulting firm:

"There's always some level of angst at this time of year, but it's significantly greater now and with good reason. We've had extended periods of drought."

In the markets, all this news was taking its toll: prices for corn and wheat were spiking upwards, rising almost a third on global markets as forecasters suggested grain stockpiles could shrink by as much as 50% as the summer wears on. But in the political world, there wasn't much reaction at all.
And because of a huge disinformation campaign by the energy cartel, the average American does not think the environmental destruction of the earth is important, not as critical as immigration issues!
Meanwhile, Siberia is burning, but who gives a shit about the Russkis, right?
Can we please get some leaders who have a brain in their heads?